Former Conservative leader Lord Hague has called for a "decisive change" in the law on cannabis – suggesting that the Tories should consider legalising recreational use of the drug.
Writing in the Daily Telegraph, he said "any war" has been "irreversibly lost".
Lord Hague goes further than senior Tories who have suggested a law change after a boy with epilepsy was given a special licence to use cannabis oil.
The government is creating an expert panel to look into individual cases.
Last week officials at Heathrow Airport confiscated Billy Caldwell's cannabis oil, which the 12-year-old's mother Charlotte had been attempting to bring into the UK from Canada.
The Home Office returned some of the medicine after protests from Ms Caldwell, and assurances from the medical team treating Billy that the treatment was necessary.
Billy was discharged from hospital on Monday, but will continue to be treated with the oil.
Reality Check: Does UK export the most legal cannabis?
Most UK cannabis 'super strength skunk'
Cannabis addiction 'rises among over 40s'
The cops joining Canada's marijuana business
Lord Hague said the episode "provides one of those illuminating moments when a longstanding policy is revealed to be inappropriate, ineffective and utterly out of date".
By returning the medicine, the Home Office had "implicitly conceded that the law has become indefensible", he said.
Lord Hague said licensing cannabis for medical use would be a "step forward", but also said the Conservatives should be as "bold" as Canada where state-regulated recreational consumption is being considered.
'Multi-billion pound black market'
Currently, cannabis is a Class B drug, with penalties for possession of up to five years in prison.
Lord Hague's remarks mark a significant change of heart – as Tory leader between 1997 and 2001, he called for a tough approach to drug law enforcement.
But, in a message to his party colleagues, he said: "We are pragmatists, who change with society and revise our opinions when the facts change. On this issue, the facts have changed very seriously and clearly."
"As far as marijuana, or cannabis, is concerned, any war has been comprehensively and irreversibly lost," he said.
It was "nothing short of deluded" to think the drug could be driven off the streets, and he compared ordering the police to crack down on its use to "asking the army to recover the Empire. This battle is effectively over".
He said the fact that cannabis was both illegal and widely available effectively permitted "the worst of all worlds" to arise: encouraging more potent and dangerous variants of the drug, with users reluctant to seek help.
"The overall result is the rise of a multi-billion pound black market for an unregulated and increasingly potent product, creating more addiction and mental health problems but without any enforceable policy to do something about it.
"The only beneficiaries are organised crime gangs. It is absolutely unacceptable to allow this situation to continue."
In his article, Lord Hague said under successive governments it has been assumed that there has been little alternative to trying to win a war on drugs, cannabis included.
He said: "Taking an alternative view has been regarded as indicating a tendency to weird, irresponsible or crazily liberal opinions.
"It's time to acknowledge facts, and to embrace a decisive change that would be economically and socially beneficial, as well as rather liberating for Conservatives in showing sensible new opinions are welcome."
'Useful medical properties'
Many other countries, including much of the US, Germany, Italy and the Netherlands, have legalised the use of medicinal cannabis.
Boy discharged after getting cannabis oil
Epileptic boy gets cannabis oil back
'Law not right' on medical cannabis use
On Monday, asked about the Billy Caldwell case, Health Secretary Jeremy Hunt said it was obvious the government was not "getting the law on this kind of thing right" and suggested a review would take place "as quickly as possible".
The government is creating an expert panel to look into individual cases where the use of medicinal cannabis has been recommended.
Asked later about the government's position, Prime Minister Theresa May said there was a "very good reason" for the current rules on cannabis – "because of the impact that they have on people's lives".
She said a system was already in place for medicinal use, and that government policy would be driven by "what clinicians are saying".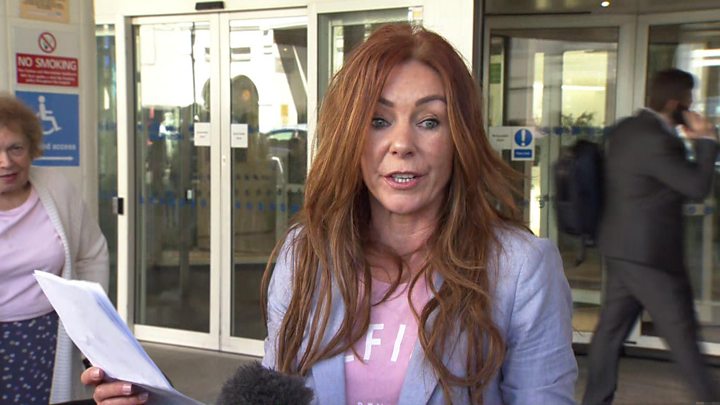 In suggesting the recreational use of cannabis should be made legal, Lord Hague has gone further than his fellow senior Conservatives who have called for a change in the law on the use of medicinal cannabis.
On Sunday, Sir Mike Penning, who chairs an all-party parliamentary group looking at medical cannabis, said the Caldwell case proved the existing laws were "bizarre and cruel", and added that "fundamental reform of the system" was needed.
Fellow Conservative Crispin Blunt MP, co-chair of the all-party parliamentary group on drug policy reform, said the existing law was "frankly absurd".
Ex-Tory health minister Dan Poulter said the current situation was "ridiculous" and pledged to push for a law change.
Raising an urgent question on the issue in the Commons on Monday, Gower MP Tonia Antoniazzi said there were two children – aged six and one – in her constituency who have a serious life-limiting condition and could "benefit hugely" from medicinal cannabis.
Other MPs also raised cases, while the shadow home secretary Diane Abbott said the current system – even with the new expert panel announced – is "simply not fit for purpose" and called for the legalisation of cannabis oil for medical use.